Crete October 2005
Thursday, 6 October 2005
Passport Disaster. Thursday 6 October

9 of us were due to fly to
Crete
on 4 October, down from 10 due to Bruce being taken ill at the last minute. Alan, Liz and I shared a taxi to Gatwick (people carrier type able to take 3 people and 3 bikes) A
5.00am
pickup for me and then on to Alans'.

As we were leaving Alans' the taxi driver asked for some details of the flight back and I checked the tickets and I noticed there was no Passport in the flight wallet. I had checked it the previous evening and put it in the Barbag with the flight tickets. After a lot of searching through the barbag I asked the taxi driver to go back to Pagham where we all searched the house and the luggage and the floor of the taxi but no sign of it.

We now had to go on up to Gatwick with more searching en route and at the airport through the luggage. I then sorted out paperwork and handed over to Alan the maps, booking details and accommodation cash and then got the train back and spent the rest of the day searching the house but with no luck.

Then massive relief at about 4.00 when my Sister rang to say a man in Felpham had found my passport while walking his dog and rung her as the emergency contact number on the passport.

From the location of the mans' house I was able to deduce what had happened. When I opened the flight wallet in the taxi at Alans house the Passport must have slipped out unnoticed and lodged between my seat and the door. About 1/4 mile from Alans house the taxi driver noticed a light was still on so a door wasn't properly closed so he stopped and I opened and shut the door and of course the passport fell out into the gutter.

After getting back the passport I checked on the Internet and booked a flight for 2 days later, Thursday 6 October. Flights to Hania only go out on Tuesdays so this was to Heraklion about 100 miles to the east on
Crete
's north coast. My second trip to Gatwick went without any hitches and on arrival at Heraklion I was able to get the bike on a taxi to join the others only 2 days late - phew!!!


Friday, 7 October 2005
Crete, Friday 7 October, circuit from Kissamos.

Today's ride was planned as a circuit from Kissamos on the North coast, where we were staying, on roads along the far west coast of
Crete
.

Weather was warm and sunny about 24c. After a visit to the port along the coast we started a long climb to Platanos at 780ft and a taverna elevenses stop. Beyond Platanos the scenery suddenly opened up with wild remote landscapes and views down to the west coast 900ft below us

We had a roadside picnic lunch with tremendous views. We then retraced our route a short way before turning off onto a narrow traffic free byroad.

The mornings ride was quite frustrating for Jan who had never cycled over a Mountain before (1000ft) Greatest height was 940ft. However as we cycled up the byroad it gradually climbed until at the
high point
it was 1015ft and celebrations followed.

Afternoon tea was at a basic village taverna which probably rarely saw tourists. Then a long downhill back to Kissamos.

Edwin
Mountain Picnic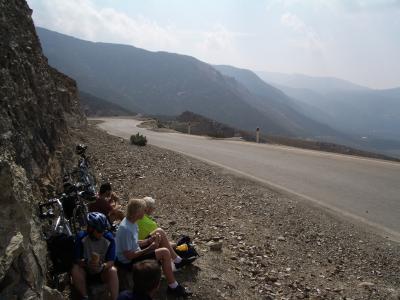 Jan at 1000 ft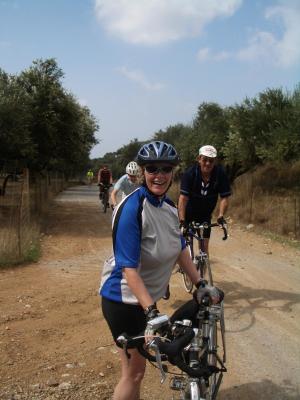 Sunday, 9 October 2005
Crete, Saturday 8 October, Kissamos to Paleohora

Today was a moving on ride from the North to the South coasts over the western edges of the
White mountains
. Weather was warm and sunny about 25c.

We had a long gradual climb up the valley with a good grade and the high peaks rising up ahead of us. We stopped for elevenses at a taverna in Topolia.

Round the corner from Topolia the road entered the dramatic Koutsamatados Ravine. We had to go through a short tunnel which had problems as it was one vehicle wide and the traffic lights had stopped working and cars were backing out as others came the other way. We waited at the entrance to the tunnel until 2 cars came up behind us and then followed them in.

Beyond the ravine the landscape opened up into a valley. We then turned off onto a minor road and started steeper climbing with traffic counts down to about one every 10 minutes.

We stopped to regroup at a junction. A farmer and his wife were tending a field of grape vines and possibly (correctly) thinking we needed it approached us and gave us great armfuls of grapes which were consumed with relish.

We continued on through wilder and more remote mountain countryside eventually reaching the top at 2539ft.

After lunch near the top we continued with a fast descent, but then I impacted a wasp at high speed which stung me on the lip. This was not good as I get an allergic reaction. Avryll gave me an antihistamine tablet. I was able to continue a few miles to a small village with a cafe to recover. By this time my lip and cheeks had swollen up massively but breathing was not affected. Some old villagers were taking coffee and Arthur came across a dead wasp and was able to mime what had happened (complete with buzzing) The villager walked straight to a nearby tree similar to a fig tree and picked some leaves and directed us to apply the sap to my lip. This seemed to have an immediately beneficial effect.

I was able to continue after an hour and we went on down to the
South
Coast
town of
Palaechora
which was to be our base for 3 nights.

Distance was 30.3 miles with 3241ft of total climbing

Edwin
Arthur gratefuly receives the Grapes.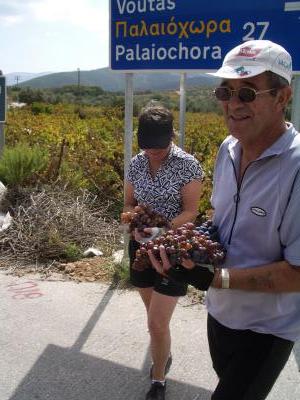 Climbing High, getting near the top.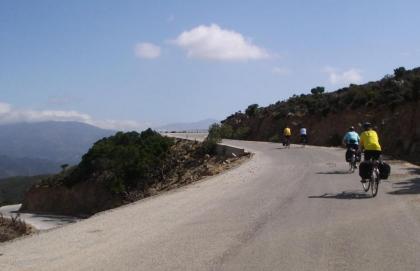 Edwin receives the leaf herbal treatment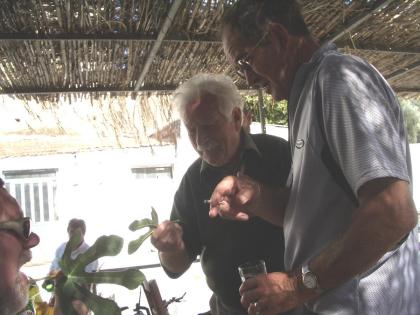 Crete, Paleochora. Sun 9th to Tues 11 October.
Sunday 9 October

Today massive swelling from the previous days wasp sting remained so I decided a bike ride would not be sensible. Most of the rest of the group decided to take it easy after the previous days exertions and look round the town.

Richard and Peter kept the Arun Adur hard riding traditions alive with a ride along the coast to the west and then inland on byroads and back by another route to the taverna we stopped at the previous day where I was given the wasp sting herbal remedy.

There was some cloud today but today and for the next few days there was a lot of rain and cooler temperatures on the North Coast. We had moved to the South Coast at just the right time as with a prevailing north wind and the protection of the 3500 ft peaks of the White Mountains it enjoys a warmer and sunnier micro climate.

Monday 10 October

Today the swelling was much reduced so I decided on a ride on the main route out of town towards Hania to a town at about 400 metres and then back down. The road was smooth and well graded. However I had picked up a cold and after a few miles I was feeling so bad that I had to turnback.(Was this the last of 3, passport, Sting and now a cold?)

Alan was not feeling too good either so Alan and Liz turned back as well but the rest continued.

The group stopped for elevenses at Kakodiki and then continued another 4 miles before most turned back. Richard however continued via Kantanos to do a circuit on byroads and a 3 mile stretch of rough track via Prodomi.

Tuesday 11 October, Paleochora to Agia Roumeli.

Today we took a ferry east further along the South Coast to Agia Roumeli which is at the base of the Samaria Gorge. We rode the bikes about 1/4 mile from the hotel to the ferry and then about 300 yards from the ferry to the Hotel in Agia Roumeli. (very strenuous day!) Our base is a village with 2 short streets and no road out so not exactly noisy with traffic. Tomorrow we walk up the Samaria Gorge.

Edwin
Crete. Tuesday 11 October. Waiting for the ferry at Palaeochora.

Crete, Wednesday 12 October. Walking the Samaria Gorge.
No cycling today but a walk up one of Europe's longest and most scenic gorges. Weather was warm and sunny with temperatures up to 26C.

We stoked up with breakfast at the Hotels restaurants terrace overlooking the sea

The plan was to walk part way up taking in the narrowest and most spectacular parts and then back down to our base on the coast at Agia Roumeli. We were being contrary as nearly everyone else gets a bus or coach trip to the top, walks down to Agia Roumeli and then gets a ferry to a nearby town with a road where the buses pick them up.

Our way worked out quite well because we had the gorge to ourselves in the morning. After about 3 miles we reached the most spectacular part known as the Iron Gates where the rock walls close in to about 3 metres and rise above for nearly 1000ft.

We continued higher to another spectacular part with narrow walls and striated rock and then stopped for a picnic lunch on the rocks beside the river.

We then descended with the by now constant stream of people coming down. Back at the Hotel I finished of the day with some sunbathing on the hotel rooms seaview balcony.

Edwin
Breakfast at Agia Roumeni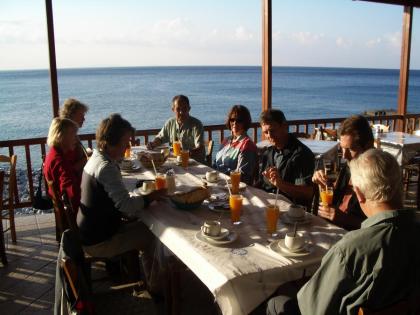 Samaria Gorge, The Iron Gates, 1000 ft high and 3 metres wide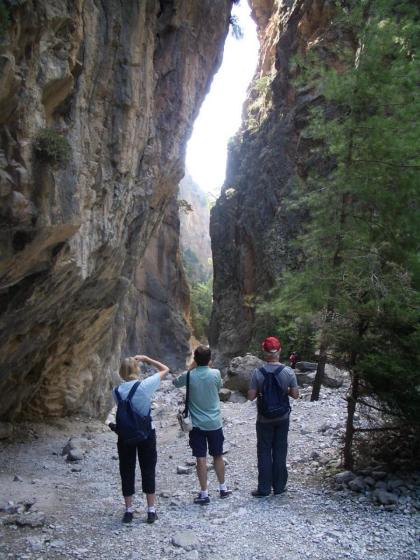 Crete
,
Samaria
Gorge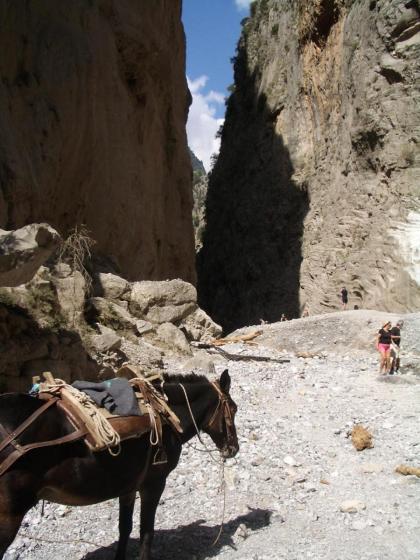 Thursday 13 October. Agia Roumeli to Loutro.
Today we took the 11.20 ferry a short way along the south coast to the village of Loutro. We had a bit of wildlife interest while waiting for the ferry as a local spear fisherman first caught a giant mollusc and then a squid which he battered against a rock.

The ferry when it arrived was not a car ferry and much smaller than usual so we had to haul the bikes up a narrow gangway. We again did not manage any bike riding during the day. We walked the bikes a couple hundred yards from hotel to ferry and in Lotrou the hotel was next to the ferry wharf, about 20 yards.

The Rough Guide write up on Loutro starts as follows -

"Of all the South Coast villages Loutro perhaps sums up what this coast ought to be all about. It's an incredibly soporific place, where there is absolutely nothing to do but eat drink and laze, and where you loose any desire to do anything else" Arthur commented that we had been working up to that all holiday.

Agia Roumeli had no road into it but had a few streets so locals in a pickup would come by about every 1/2 hour. Loutro goes one better with not only no road into it but no streets. There is a promenade round the small bay lined with a few tavenas with rooms. Behind this there are only steep tracks. This means no cars and not even scooters. Supplies are brought in on small boats or in wheelbarrows from the ferry.This makes Loutro an ideal place to get away from the hustle and bustle and noise of the car but still have the convenience of hotels and restaurants. With steep cliffs rising above the village only walks are possible not bike rides.

After our arrival we took a short walk around the headland taking in ruined castles and a teastop at a taverna on the adjoining bay. Then back to base and a spot of lazing around on the rooms balcony overlooking Loutro.

Edwin


Small ferry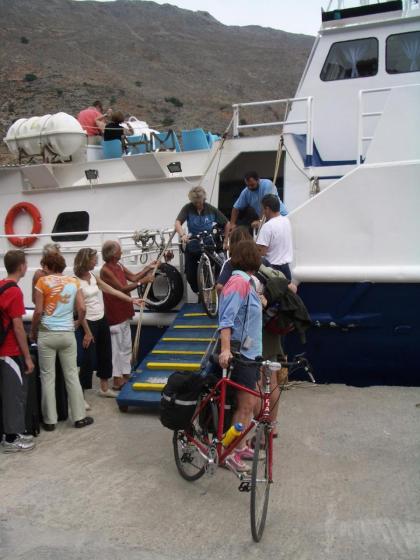 View of Loutro
Crete, Friday 14 October. Loutro to Hora Sfakion.
Today we awoke to clear blue skies and the temperature later reached 26C. I took some pictures from the balcony of Loutro in the morning light.

During the day we spit up with Alan Liz and Richard taking the midday ferry to Hora Sfakion and the rest of us deciding to enjoy the laid back lifestyle of Loutro for a few more hours and take the 4.30 ferry.

We in the longer stay group took a short walk along the coastal footpath with great views back to Loutro and down to the sea. On the way back we came across some goats climbing into the branches of a tree to eat the leaves. We returned to Loutro for along and very leisurely lunch. This was followed by a short walk to another taverna and afternoon tea before the 15 minute ferry ride to Hora Sfakion. The bikes were walked 20 yards to the ferry and at Hora Sfakion 200 yards to the hotel.

Alan and Liz had done a short ride but Richard got in a challenging ride with 3 miles uphill to 700 metres and a position above Loutro together with a visit to a gorge.

Edwin


Crete, Morning view of Loutro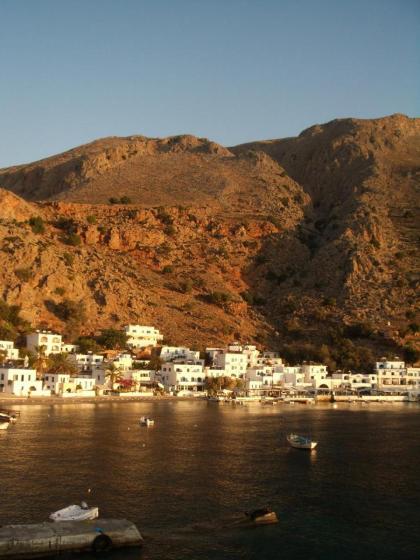 Crete, Walking the cliff path from Loutro
Crete, Saturday 15 October. Hora Sfakion. Day ride to Frangokastello.
Today was an out and back ride along the coast to the east from our base for 2 nights at the small south coast town of Hora Sfakion.

8 of us took part in the ride all the group except Jan who rested to recover from a 24 hour bug. Weather was hot and sunny with temperatures later reaching 27C.

The main route out started with a short but steep climb over a ridge with great views back over the mountain cliffs tumbling down to the clear blue sea and bay of Hora Sfakion.

We then had a long gradual climb to 650ft with a steep drop to the ocean on our right and the 4000ft peaks of the White Mountains on our left. Ahead of us and to our left we could see the main route north over the mountains (tomorrows route) hairpinning up the cliffs alongside the Imbross Ravine.

With heat and climbing taking its toll my suggestion of an elevenses stop in the next village was enthusiastically received and we stopped with 2.8 miles covered!

After some ups and downs there was a long gradual downhill to the coastal plain with great views of the mountains set against a crystal clear blue sky. On the coast we stopped to look round the Venetian Castle at Frangokastello and then moved on to a nearby taverna for lunch on a cliff adjoining the sea.

We did a short route round and then retraced our outward route stopping for tea at the same town as elevenses near the high point of the route.

21 miles for the day and 1712 feet of climbing.

Edwin


Crete, Avryl rides the clifftop road near Hora Sfkafion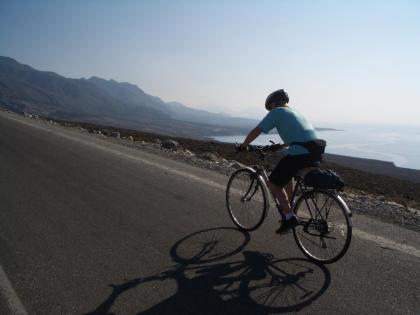 Crete, arriving at Frangokastello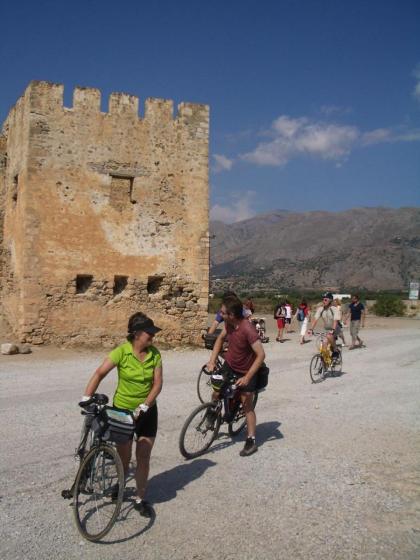 Posted by Edwin at 1:59 PM EST
Updated: Sunday, 17 December 2006 12:24 PM EST